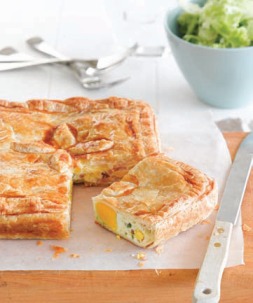 Best Ever Bacon & Egg Pie
Ingredients
8 Eggs
½ cup bacon, chopped
1 spring onion (optional), chopped
1 egg yolk beaten with a tablespoon of water
Salt and pepper to taste
400g block, sheets, or roll of puff pastry
Method
Bacon & Egg Pie is an easy to make, real kiwi classic. Great for lunches, brunches, dinner or a picnic.A 20.5 x 20.5cm cake pan, or a round 23cm metal pie dish is ideal.
Preheat oven to 200°C. Roll out two thirds of the pastry on a fl oury bench to line a shallow greased23cm pie tin. Scatter over spring onion and half of the bacon, break in the eggs and season, thenscatter on the remaining bacon.
Roll out the remaining pastry to make a lid. Crimp the pastry edges together with your fi ngers andtrim off any excess. Use the trimmings to decorate the pie if you wish (attach these with a dab ofegg wash). Cut four small vents in the pastry lid with a sharp knife. Brush with beaten egg mix andbake 35 - 40 minutes until rich golden brown and crispy. Serve warm - or cold.
Recipe Credit: Sophie Gray
For more recipes, how to videos and e-news subscription,
visit eggs.org.nz Follow us on facebook.com/nzeggs