Lifestyle - Page 10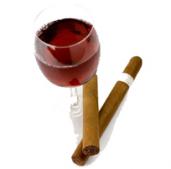 Kick up your feet, drop down a gear or two, and have a relaxing browse through this lovingly compiled section of food, liquor, gadgets, fashion, and travel. Upgrade your lifestyle!

Planning a romantic Valentines Day with a special lady? GetFrank advises men on how to remind her why she agreed to go out with you in the first place and keep her wanting more…Dress for the occasionRemember that it's not just any old... More about Dressed for Love

While black is often said to be slimming, this model is definitely not about optical illusions. More than ever inspired by the creative strength of Italian design and Swiss technical expertise, the legendary Octo combines the world's thinnest... More about Bulgari: Octo Ultranero Finissimo Tourbillon

Almost everyone remembers their first drink of alcohol. I remember mine like it was yesterday. Taking a sip of my father's Bud Light when I was seven years old, I realized it tasted nothing like the root beer I frequently drank, mixing it with... More about Climbing the Liquor Ladder: Going from Beer to Wine

In the beginning, there was a plan. In fact there were several. We had short term plans, medium term plans and long term plans. So many plans it seemed, that we started sounding like financial advisors. We made plans for when things went right, and... More about When you're busy making other plans..

Caramelised onion omelette Mmmmm, omelettes, a protein punch to the gut and oh so tasty. This recipe is a take on an old favourite, adding slightly different flavours while being just as easy to whip up in 15 minutes and serves two... The... More about Onion omelette

Having great presentation at work will rarely be more important than how good you are at what you've been employed to do. However, many people sabotage their chances of career advancements because they do not project an image that says,... More about Professional's wardrobe

A watchmaking legend, all dressed in gold. Forty years after its creation, the Nautilus by Patek Philippe appears for the first time clad head-to-toe in pink gold. After paving the way for luxury watches in steel, it now lends itself with the... More about Patek Philippe: Nautilus 5711/1R

Isla Mujeres in Mexico is a great way to escape the tourist crush in Cancun. Roughly 9 miles offshore, the island contains the Mexican beach culture of a bygone era. Oh, and the name translates to "The Island of Women." Isla... More about Isla Mujeres, Mexico – The Island of Women

Inspired by a classic spanish omelette or tortilla de patatas, this delicious frittata is made up of few ingredients but is packed with lots of flavour. Potato and chorizo are the stars of the show, and this is the perfect quick and easy option... More about Chorizo Potato Fritatta

Groom's Quick Dress Code. We all know the planning that goes with the Bride choosing 'her' perfect Cinderella dress. But what about the Prince? Cinderalla kissed the frog so he could become the Prince but no Bride... More about To Tux or not to Tux?