"'With its no-fuss pita crust, this pizza makes a quick meal for one,' says Jeannette Derner of Newport News, Virginia. 'And if you're serving a family individual pizzas are perfect--everyone can choose their own toppings!'"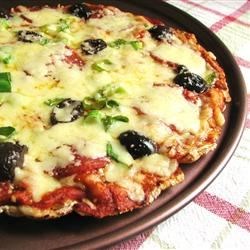 PREP TIME 5 Min
COOK TIME 5 Min
READY IN 10 Min

INGREDIENTS

* 2 tablespoons pizza sauce
* 1 whole pita breads
* 6 slices pepperoni sausage
* 2 fresh mushrooms, sliced
* 1/4 cup shredded mozzarella cheese

* add to recipe box Add to Recipe Box
My folders:
* add to shopping list Add to Shopping List
* Customize Recipe
* add a personal note Add a Personal Note

What to Drink?
Wine Sangiovese

DIRECTIONS

1. Spread pizza sauce over pita bread. Top with pepperoni, mushrooms and cheese. Place on an ungreased baking sheet. Bake at 400 degrees F for 4-6 minutes or until cheese is melted.

FOOTNOTE

*
Nutritional Analysis: One serving (prepared with turkey pepperoni and par-skim mozzarella cheese) equals 275 calories, 6 g fat (3 g saturated fat), 25 mg cholesterol, 756 mg sodium, 38 g carbohydrate, 2 g fiber, 16 g protein. Diabetic Exchanges: 2 starch, 2 lean meat.
This work is licensed under a Creative Commons Attribution-Share Alike 3.0 License.
Source: http://allrecipes.com//Recipe/pepperoni-pizza-pita/Detail.aspx