From fig leaves to the mankini, men have been covering their wedding tackle with a wide range of materials for thousands of years. However it is difficult to determine when they became considered undergarments as such, because until relatively recently many weren't actually under anything: but one can't discuss undies without at least giving a quick nod to the garments that covered the frank and beans of men from yesteryear.
The Loincloth
The universal antecedent of men's underwear, leather loincloths have been found with human remains from up to 7,000 years ago. Tutankhamun was buried with no less than 145 pairs; the Romans wore them much like a pair of shorts under their togas - but except for slaves, the Ancient Greeks preferred to go commando under their wool chitons.

Braies
It wasn't until the Middle Ages that the loincloth was replaced by baggy mid-calf 'braies' that the wearer stepped into and then tied around the waist. They were usually fitted with a buttoned flap so men could pee without having to take everything off.


Long Johns
Victorian prudery saw both sexes wearing a knitted one piece that covered the entire body from wrists to the ankles, with a drop flap in the back to ease visits to the toilet. They were nick-named 'Union Suits' or 'Long Johns'.

After thousands of years of little to no change, the twentieth century that saw the biggest leap in options for men's undies, with the greatest innovations being the introduction of nylon, rayon, lycra and spandex. Underwear rapidly became smaller and closer fitting, with far more variety designed for specific age groups and purposes.

Briefs
Traditional briefs cover everything from the waist to the upper thighs, front and back. They have an elastic waistband, Y-shaped front fly, and provide great support for the genitals. They're less likely to ride up than other types of underwear and are great for all activities.

Boxers

Boxers are the loosest, and arguably the most comfortable, of all men's underwear. They became en vogue in the 1930s, with elastic replacing button, snap, and tie closures, until a shortage of rubber and metal saw button fasteners return to favour. Boxers were the first underwear to be coloured, when soldiers were issued with drab-olive briefs that weren't too conspicuous when hung up to dry.

G Strings
During the latter part of the 20th century, the G-String shape became very popular with both sexes for its erotic appeal and ability to be invisible under tight trousers.

Boxer Briefs
As the name implies, boxer briefs are the middle ground between boxer and brief. They have the big advantage of providing support and coverage in a way that works under all types of clothes. Boxer Briefs are without a doubt the most popular style in men's underwear today.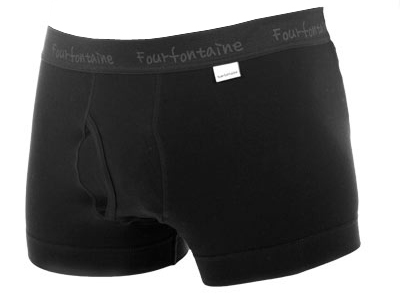 Until the 80s men's underwear was considered something for function, modesty, hygiene and sometimes social status. During that decade new 'designer' underwear producers as Calvin Klein and Tommy Hilfiger sexualised men's tidy whities and they became as much a fashion item as outerwear.

Underwear today offers a myriad of options for men including support, fabric, colour, comfort, erhm.. enhancement - and of course fashion. And like the women's designs, the newest and hottest styles are almost totally seamless.

Four of the Best:
Moneyshot Boyleg, $39.90
Four Fontaine Trunks, $34.90
Bonds Men Seamfree Stripe, $22.90
Ben Sherman Hipster Trunk, $29.90