Hair style tips for the modern man

M
en's Hairstyles are not as complicated as women's hairstyles, however, there are still many factors to consider such as skin undertone, face shape, age, style, clothing and lifestyle to name a few that can affect what hairstyles will look good on you.
Men's hairstyles tips

1. Know your hair – is it oily, is it dry, is it damaged?

2. Get a good stylist – find one you can trust. Do not be afraid to go to a salon rather than a barber shop - you may be very happy with the result, even if it does cost $50-$80. Also bear in mind that you do pay for the service: things like a scalp massage from a lovely wee thing, tea, coffee or wine, the cool environment – little pampering touches.


If you have a $10 head, by all means get a $10 haircut

3. Ask a girl friend what she thinks; a girl's opinion is good for a man's hairstyle.

4. Keep your hair healthy and soft; treat it well with good shampoos and conditioners – but don't feel the need to go too overboard on the shampoo; bear in mind that it is predominantly just made up of soap.

5. You do not have to conform to certain men's hairstyles, especially if they don't suit you - go with a different look now and then.

6. Value your hair and take pride. Imagine yourself if you were bald?

7. Do not wear caps or beanies too often; show off your nice hair as much as you can. Women notice nice hair and skin – just like we notice it in women.

8. Coloring hair is not just for women, you can do it as well to add orginality to your look and further complement your skin tone.

9. If you are copying a celebrity's haircut, bring a few different angled shots to your hairstylist if you can. And, always have your hair cut a little longer in case of mistakes. It is easier to get it re-cut than to let it grow back.

10. At the hairdressers pay attention to what your stylist does, so that you can replicate it at home. How does he or she apply styling products? How much? How does he or she use the hair dryer? Ask for some "tricks of the trade." Again, don't be afraid – you want to be able to look you best all the time, not just in the period after you leave the salon.
Look good, feel great

Times are certainly changing; there is no doubt that having a great hairstyle is becoming increasingly important to the overall well-being of the modern male.

Getting a great haircut can make the difference between feeling really average about yourself, or feeling like you're the king of the world. So don't be afraid to experiment with something new whenever you feel bored. A change in hairstyle is not permanent, but can make you feel great for a long time. And, if it goes disastrously wrong – hey, just shave it down to a sexy bald cut and start again! But whatever you do, always keep in mind this great piece of advice from Jay Sebring: "If it's done correctly, the hair cut should be so much of a part of the man that it's never conspicuous. You don't want women to say 'Look at that guy's hair' even in admiration. Only, 'Look at that guy'".

Round face: Round faces are characterised by a round chin. Because they lack the length of the oval face, the hair should be cut to create the illusion of length in the face. This is achieved by creating height on top of the head, and minimizing hair width by keeping it flat at the sides and around the ears.
Important if colouring your hair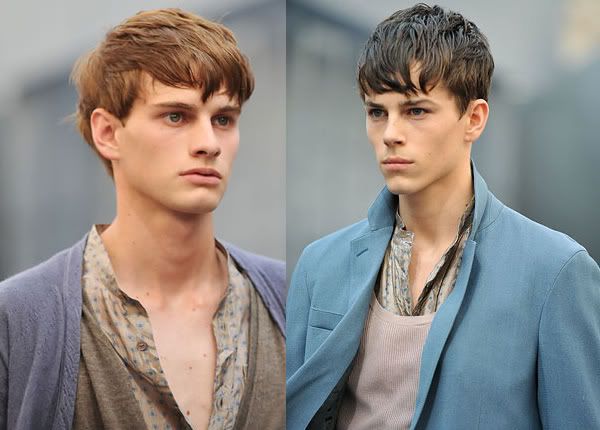 When colouring hair, always consider the amount of contrast you need next to your face. Don't make yourself look pale with hair that's too light, or harsh with hair too dark. Soften the shade with age. All grey hair must be kept relative short, with a meticulous, stylish cut. Long, scraggly grey hair just doesn't make it. You do not want to look grey and old; but grey and in style!