Dress For Casanova Success
There is a Singles Party. You fancy the idea that in one large single room there will be eligible women and you don't have to worry about the usual 'filtering process' to try to come up with those 'subtle lines' , like "hum so you come here alone?", to find out if someone is attached or not. So, with one less thing on the cards, you can focus on making sure you get the best foot forward with the ladies by looking smooth, sharp and definitely inviting!
When it comes to dating, first impressions can make or break that first encounter. That is why I have put together 8 simple but effective tips to give you the confidence to be a suave Casanova on the night.
Dress For Casanova Success
Step 1: Plan
Make sure you know your market. If it is a smart casual, formal or black tie event, ensure you dress the part. Women lust after well-groomed, presentable and dressed men at events of this kind, and being the Casual Carl at a formal event or Too Dressy Dan at a smart-casual event may attract the wrong attention.
Step 2: Suit Decision?
Suits are the expression of men's formal clothing, exhibiting the etiquette of a good dressing sense and most probably the best apparel among all other collections that adds value to a gentleman's wardrobe. However, while just a suit can be the invitation ticket for female attraction, it can also be the goodbye exit if it is worn incorrectly.
If it is a formal event, do you have an appropriate suit? "Suit" you say? If it is expected, then at least turn up wearing it. You can always take the jacket off at a later time as you ease on to the night.
It is a good idea to own at least one good 'tailored suit'. Tailored means that it is, or portrays, customisation. Nothing is less attractive than the oversized 'Tom Hanks look in Big when he shrinks back to a child'. Are sleeves or the legs too long or too short? If so, take the suit to a tailor to either shorten it or if the suit has room for it, lengthen it. It's not that expensive to get it fitting right. And considerably cheaper than a tailored Italian wool suit for damn sure.
But if anything else fails, hit the shops.
Step 3: Hit the Shops
If you need to go shopping and you are in a budget, then try to find garments that go well together. If it is a jacket, ensure it matches an existing trouser; if it's a shirt you're after again, think of the overall picture and how it will look with your other items.
Avoid those mistmatch combinations and ensure your attire coordinates with the colour, style & fabric. If you are trying to match with an existing colour garment then take this garment shopping with you. The brain only remembers colour for 20 seconds, so getting it all wrong cannot only be embarrassing but costly.
If you need to go suit shopping then there are a couple of things you need to plan before making an investment.
1: Budget Set a budget in mind regardless of whether it is $250 or $1,000. Once you set a price in mind you can quickly browse through the racks.

2: Style & Colour What type of garment are you shopping for? What other items will you be wearing it with (trousers, jeans, shirt, jacket, shoes etc.). If you want your budget to take you further choose a garment that has multiple lives: one you can wear for Work & Play. What season are you in? What fabric? A very shiny fabric will be a bit too John Travolta for work, and you also do not want to be sweating in a wool suit in the middle of summer.
Colour: choose one that is complimentary to your skin tone and goes with your existing wardrobe. Would it be Black, Navy, Brown, Charcoal, Striped?
If you need help, ask a lady friend to help you, ask the shopping assistant, or get an image consultant to take the entire hassle and shop for the perfect suit to 'fit' you.
3: Seduction Shirt There are shirts and there are 'Shirts'. A good quality shirt will sit gracefully on your body and if you choose a colour that compliments your skin-tone you can give yourself a vibrant healthy look instantly. Dare to be different and move away from the standard and average white or cream. Single coloured, like mauve (that is a light tone of purple), pink, blue or interesting stripe shirts can not only look great on you but give the ladies something else to remember you by, "the guy with the mauve shirt and great hair".
4: If you have hair flaunt it Have a great wash & wear clean haircut (you can spend up to $75 for a really great haircut that looks different but suits your head to a T - and it's worth it when you always feel like the Man) and avoid overuse of greasy hair products. There is nothing worse than making contact with a greasy hair against your face (while kissing).
If you don't have hair or only have some, then choose what suits you best. There are very sexy shaved men, just make sure you have a good scalp shape and no bumps. Plastic surgery may be your next shopping trip.
5: Top 3 must-haves in every man's wardrobe Men, you do not have to spend hundreds of dollars like women do on having every colour of shoes and handbags to match the rainbow or enough shoes to dress a centipede's tribe. So make sure that your accessories are of good quality since you do not have many to invest on.
Invest on: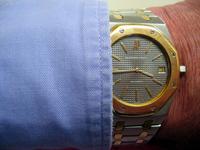 A good quality watch The digital watch era is over. If you opt for a leather strap ensure it matches the majority of belts & shoes.
Shoes & belts A typical man can count the number of shoes he owns in one hand, so make them of good quality and they will last you for miles.
Sunglasses Get a good designer brand that suits your facial shape and the frames & length also suit your face colouring. (Not that you will probably need them on the night, but who knows if you party from dusk to dawn).
6: Women pay attention to the small The small stuff is what women keep score on i.e. how you acted, what you said and how you said it and also what you wore and how your wore it. Women are constantly taking notice! So you could have an expensive suit, shirt or shoes, but if it has a stain or it is dirty then you have cheapened your look. Make sure that your clothing is well pressed, no buttons missing, no stains, your shoes are clean and you are well groomed. It may sound nerdy but if all you want is some slapper then break out the swappa crate, jandals and your unwashed wife beater.
7: Avoid the top image breakers for men Guaranteed to repel female attention:
* Athletic socks with business shoes
* Ties & socks that are funnier than you are
* Un-coordinated outfits
* Any hair sticking out that is not on your scalp (nose, ears etc)
* Dirty, scuffed or cheap looking shoes
* Stains anywhere!
* Bad breath or any bad smell
8: Wear nature's best asset Nothing is sexier than the power of a smile.
As a woman I can honestly say that there is nothing sexier when a man catches your eye and smiles, and if you are naturally funny and make the ladies laugh then you're probably not reading this because you are not single or you are a true hit!
Remember that you can look smooth & sharp on the outside but women are attracted to the whole visual image. I.e. how you handle yourself, how you speak, how well you listen - and your manners. Yes, I know this is a lot to remember at times but just remember you don't talk or treat the ladies like your mates. They just don't seem to respond too well to that treatment.