Beer and food matching is fun. The most fun about Beer is your not bound by a bunch of pre-conceived wine matches everyone seems to accept like, "Gewurztraminer goes with Asian food" not only is this stupid it also very boring.
B
eer and food matching is easy. Beer is the perfect beverage to enjoy with your eats, its moderate alcohol and carbonation combined with the truly astounding range of flavours available in craftbeer make it a doddle to match with you dinner.

The hurdle to beer and food matching in NZ is the lack of character in the mainstream brands. Hallertau has set about changing that with a range of beers bursting with delicious food matchable flavours.

There are three basic concepts to grasp:

A complementary match:
The big spicy hop flavours of a Pale Ale team up with the chili heat in a Tai Beef salad for a full moon party in your mouth. This is the easiest match, you should be getting this every day.

The contrasting match:
This is where the richness from the hollandaise on your eggs Benni is cut and lifted off you palette by the soft citrus acid finish of your Kölsch beer (say yes to beer with Breakfast!!)
The contrast is a bit tougher but achievable at least once a week.

The Harmonizing match:
This is slightly more difficult and a wee bit random. Occurs when a match pulls out some very subtle background character from both the beer and the food, then creates something amazing. Can sometimes take the form of an epiphany. A Pinot Noir Barrel aged Porter slurped with the Pakiri Beach blue cheese creates this whole new world of mushrooms and forest floor flavours, seriously funky.
The Holy Grail of matching, once a year and you're doing nicely.

Here are some examples of flavours and food styles that work with the Hallertau range of beers. But always remember it's your palette, so it's your party.

Kölsch Style Ale – Luxe – # 1
SOME SAY SHE'S THE LUXE LIFE. EXUBERANT. SNAPPY. BRIGHT.
CHATTY. SUNLIT. BLUEBERRIES. LUSH. PASSIONFRUIT. REFINED.
SPARKLING. CONSIDERED. DRY. AND FRANKLY, REFRESHING.
Salad
Cheeses
Fish & general seafood
Citrus based preparations (rind)
Beer batter
Mushrooms
Brunch style
Smoked salmon
Not for spicy/hot dishes
For lighter dishes
Okay with pesto

Pale Ale – Statesman – # 2
YOWZA! THIS ONE ARRIVES WITH A FLORAL BOUQUET. HOOTS. HONKS.
HOPS. CHARISMATIC HONEY. BOMBASTIC CITRUS. DISTINGUISHED TANG.
THEN CLOSES THE DEAL WITH YOUR THIRST THOROUGHLY QUENCHED.

Chilli
Thai food/Vietnamese/Indian
Bright flavours
Citrus
Cilantro
Mexican
Lime
Lifts the spiciness off plate
Cuts through heavy cheese cream sauces
Lively and vivacious
Food needs to have oomph
Tomatoes
Sweet, sour and salty
Spicy burgers
Black pepper
Mint leaves
tofu
Coconut
Cajun

Red Ale – Copper Tart – # 3
THIS'D SURELY BE A MINER'S DELIGHT. SUBSTANTIAL. SATISFYING.
DESERVED. MALT. FORGED. CARAMEL. BITTER. CHOCOLATE. RICH.
WORTHWHILE. SMOOTH AND DRY, EARNER OF A KNOWING SMILE.

Excels with meat dishes
Roasted or caramelized flavours
Works most where wine can not match
Grilled tuna
Charred
Pork
Liver
Sausages
Can handle subtle spice flavour but not hot spice
Oily fish – e.g. salmon, tuna
Spicy crab cakes
Beans
Burgers
Some desserts, great with bitter chocolate


Blackbier - Deception – # 4
THIS NUMBER IS NOT WHAT HE SEEMS. A BIT OF A TRICKSTER
REALLY. SMOOTH. FIRM. DARK. LIGHT. BITTER. SWEET. COFFEE.
INTRICATE. CHOCOLATE. SUBTERFUGE. YOU'VE BEEN WARNED.
Caramelized
Steak
Bitter chocolate
Sweet sour combo
Chargrilled or blackened
Cajun
Mod to mod high spicy
Sausages
Rye bread
Garlic (roasted)
Hummus
Cold meat cuts – salami
Pate
Any chocolate deserts

Head along to the Beer & Food Match category at the 2009 NZ Culinary Fare as part of HospitalityNZ, 23-25 August, ASB Showgrounds.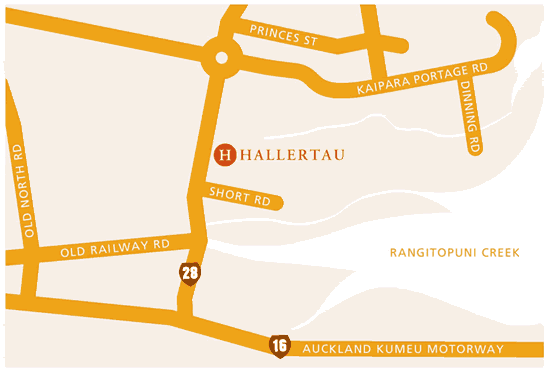 Hallertau Brewbar & Restaurant
1171 Coatesville-Riverhead Highway
Riverhead
Ph 09 412 5555
www.hallertau.co.nz