Conrad Properties feel that given the current state of the real estate market in Auckland, the dream of owning your home is fast becoming just that, a dream. Given the trend for skyrocketing house prices, Conrad Properties have seen that inner city apartments are beginning to become more appealing to first home buyers and investors alike.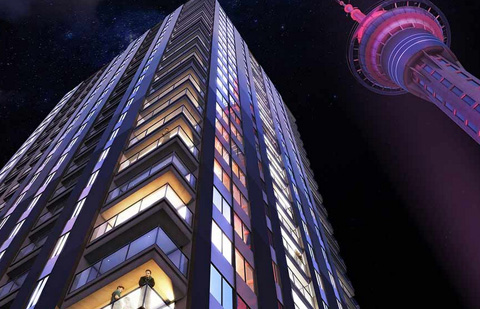 There is still the stigma of buying an apartment, but ending up with a shoe box sized room with views of a wall is merely a myth these days. You can still buy something like that, if you don't know where to look. However, if you go with a developer, like Conrad Properties who have many successful projects to their name, you can't go wrong.
Not every apartment suits every person. There is not a 'one size fits all' when it comes to buying the right apartment. This guide to help you, the potential buyer or investor, to find the best apartment for your needs.
Firstly, you need to absolutely sure of the reason you wish to buy an apartment. Is it an investment or is it for you to live in? Depending on your reason to buy, the end apartment you decide to purchase will be most likely be very different.
If you are buying an apartment as an investment you need to work out what the return on investment will be. You should be provided at least two different real estate agencies independent rental appraisals on the completed units to help you with this aspect of purchase.
If you are buying an apartment to live in, well there are a whole slew of factors you need to consider. Most of those factors will also be applicable to those of you buying for an investment too, as they will be factors that your potential new tenants will be looking for.
So what are the main factors you need to be aware of when buying an apartment? First up, we strongly recommend you talk to your lawyers. It's just common sense and it allows you to make sure you are dealing with a reputable property developer. Legal advice allows you to ensure that all of the details are above board and your investment is going to be safe. Legal advice is especially important when you are 'buying off the plans' where additional protections for purchasers and vendors are provided in the agreement along with other legal requirements that are not found in regular real estate transactions.
Once you have found the right apartment for you then you need to consider the following things to ensure that the property will work for you and, most importantly, hold its value. In most cases, more attention to this phase of the property hunt will ensure your make an excellent financial decision that may even lead to a lucrative investment as well.
Factors worth considering are:
Common areas: Every apartment complex has a common area. It's usually where the front door is, but can also be part of an outdoor area for all tenants. It's important to know what the policies are regarding this. Things such as who will clean it, who is allowed in, and other similar aspects need to be addressed.
Body Corporate: A body corporate is an organisation that is set up to run the administration and general day to day activities of the development. It is worth checking out the extent of the body corporate responsibilities for the complex you are considering buying. Body corporates expenses should be well defined and cater to every aspect of the property to ensure smooth functioning. Body corporate agreements normally address such issues as cleaning the common areas, ongoing building maintenance, security and many other areas. Before purchasing an apartment, be sure to ask about the body corporate budget and policies.
Noise: How quiet will your apartment be? Alternatively, how much noise are you allowed to make. These things are usually addressed in your body corporate agreement, but they are issues worth considering. If you buy at a relatively low level in a high rise apartment, will street noise be a factor in your apartment? Noise can become an issue if your apartment is not adequately insulated.
Parking: Where will you be able to park? Is it close by or in the building itself? Do you even need a park living in the central city?
Security: It's a good thing to ask how this aspect of your potential new building is handled. As there will be many other people using the space, what security measures are built in to ensure that your apartment is safe and secure?
Views: Sure, your apartment will have a great view once it's completed, but will that view still be there in five years time? A light or air easement is legislation that prevents further buildings being built that may impinge upon the view of the building you are contemplating purchasing. Local body governments create these easements to protect the view of existing properties, as well as maintain a certain aesthetic value to the current location. Under the same heading, is there a balcony contained in your apartment? This can be a sought after aspect for many potential renters and having access to your own balcony is always a wonderful perk of high rise, inner city apartment living.
Facilities: These days, having a mere apartment just doesn't cut it. What facilities does the apartment block that you are investing in have? A swimming pool, a sauna, a gymnasium? These are all things that you should be looking for in a new development.
The best piece of advice is to do your research. If apartment living is your goal, then being completely informed is going to be your best asset.