Best known as Dave in Flight of the Conchords, comedian Arj Barker is set to cross the pond to debut his act New and Improved duri
ng the Comedy Festival. Frank talks to Arj about being too positive, not spending time on the street and looking himself up on the internet...
Have you ever been to New Zealand before?
Yes, I've been there 3 times. Once in '89 to snowboard and party and twice in the new century for comedy festivals.

How and where did you meet the Flight of the Conchords guys?
I think I first met those guys at the Melbourne comedy festival in Australia… Or maybe it was the Sydney comedy festival... Hmm. Not sure. It was a while ago! I'm not a big detail guy when it comes to things that happened over a week ago.

How did you get the role of Dave?
Jemaine asked me if I wanted to be on their show, and I said, 'sure.'

Do you get much input into Dave's character and his interaction with the Conchords?
To some extent, because usually when we filmed a scene the last couple takes were meant for us to play around and go off-script with. So I got to throw out my own wording on those, and sometimes it made it in the final cut. But a lot of the writing was already so Dave that I couldn't Dave it up any harder if I tried!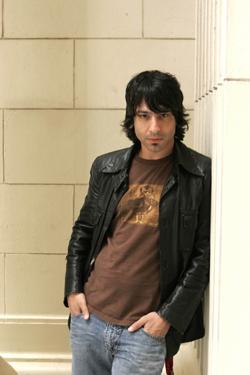 What is your favourite Dave quote from the series?
I laughed out loud (hard) when I first read the line about 'like the time I saw a dog give birth...' I won't say the end of the line here!

Did the guys ever explain the NZ/Aussie conflict?
I was already a little aware of it, having been to New Zealand a few times and also spent a fair bit of time in Australia (where I am right now, in fact).

You seem to do a lot of work in Australia and a good rapport with their audiences. Do you think this might tarnish your street cred in New Zealand?
I'm not too worried… I don't plan on spending a lot of time on the street. I just use it to get from here to there, really.

Rove called you 'criminally talented'. Is this why you get along with Australians so well?
Did he say that? I didn't know it was him. He's a comedian himself, so he was probably being sarcastic, or simply implying that I steal material from other comics.

Did you think that Americans would get the Kiwi humour?
I wasn't sure, but they sure did! A few million at least :)

In your act you've discussed how you tend to use sarcasm when performing in new places. Since Kiwi's also tend towards sarcastic, dry humour do you find it easy to work with them creatively on the show?
Well, I never considered that. It's just easy to work with the boys because we laugh at the same shit, and they are so mellow and cool. That's probably why we're friends in the first place!

When did you get involved in comedy?
A long, long time ago, son.

How would you describe your comedy style?
Not sure, but a friend read aloud from my description on Wikipedia that I 'concentrate on the irrelevant part of the premise' or something like that. I don't quite understand it, but it sounds funny, so, go me! [PS: I don't look myself up on the internet EVER because eventually something I read hurts my feelings.

What has been the highlight of your career?
Being on the Flight of the Conchords show is right up there, I'll tell you that! But really, I try not to get too attached to any one event or project in my life, and rather appreciate the whole journey. I know that sounds corny, but corny things are often true nonetheless.

What has been the lowlight of your career?
I can't think of one right now. I tend to have a very selective memory, so looking back, it all seems pretty sweet. Wait, I guess when I first started working in London, it was pretty grim, staying in a dirty hostel in the cold London winter, but even then I only remember meeting friends and having a good time. Sorry, I guess I'm too positive for this question.
Arj Barker is performing on the following dates:
WELLINGTON
Dates: Sat 19 April, 7pm & Mon 21 April, 7pm & Sun 27 - Mon 28 April, 7pm
Venue: The San Francisco Bathhouse, 171 Cuba Street
AUCKLAND
Wednesday April 23rd – Saturday April 26th, 7pm
Crunchie Comedy Chamber, Auckland Town Hall, THE EDGE®

Book now at TICKETEK: 0800 TICKETEK
Win Double passes to Dave's shows in our competition section.