If you're marketing your business or service then it's more than likely you're doing content marketing in one form or another. Be it posting your photos on Instagram or writing blog posts.
Content marketing is huge. Creating value-adding content that bring traffic to your webiste is big business. But one of the hurdles for most SMEs is the lack of resource.
How do you consistantly produce blog articles, photos, videos and other content, with your limited resouces?
Contento, a web- platform that allows you to offer content directly to top media/blogs, has launched a snazzy new directory aimed at connecting brands to high-quality content creators.
See https://creators.contento.marketing/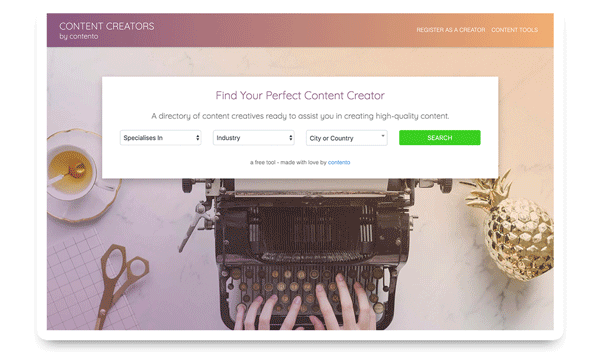 Blog article writers, copywriters, videographers, photographers, illustrators are just some of the creative specialities you can classify yourself under.

The Content Creators directory allows you to search and find the perfect content creators. You can content them directly."Globally, content marketing is massive, and our customers are always creating new content. However,
human resource is a normal roadblock for most SMEs as they grow their content marketing." Says Carl Thompson, CEO of Contento. "Connecting brands with good creators is what this directory is all about."

The Content Creators directory is a free tool to help SMEs create more content, and of course distribute that content using Contento.

View the directory here: https://creators.contento.marketing/