My work, my focus and a new relationship all began to seriously suffer, as religiously 'That's it That's all' became my naughty lil nemesis. This seductive & minxy movie amiably invigorated the urge for another winter fling amongst the adventure capital of the world. The cinematography, the home grown panorama & the revolutionary rock star non scripted shredding, showcased snowboarding to me in a light I had not yet seen. NZ featured prominently and it was Southern Lakes Heliski that showed Travis Rice & crew the backcountry bonanza NZ delivers. Fully absorbed and now completely single, ha-ha, I too wanted to charge those lines.

Heli Boarding was just a few years ago a bucket list top 5, now its an annual way of life our crew lead, trip number 5 and counting. The signs were stellar; a huge dump early season blanketed the lower and central south island to a stand still. Winter fest was frothing and the stars began to align for an 'All time' season, enough said, crew sorted & chopper seats booked, simple as!
The txts, twitter bleeps and facespace wall posts came flooding in whilst having a Pint pre Auckland airport departure, "tear shit up fellas" they commonly sang, 'How's work :-D ?' I commonly replied.
A wise guru a few years back once took me aside and said 'if you do what you love, you never work a day in your life'! As another Heli Boarding trip with the lads was now momentarily away, these words once again sang proud. Being city based for work, solely by choice not regret, I see so many people longing to be, living their lives regretfully. Trying to repress the pain in their lives, reassuring themselves living with lies. A morning ritual that sees that one sentence inspire me on another, 'I got time on my side twenty four hours in my life, full speed ahead hard and fast'.
Buck Rogers & Jerry swing by for my Christchurch pickup & the renegade roadie was in full swing, a rib tickling love affair as three good mates began catch-up of recent antics and past shockers. Gizelle at Queenstown Tourism took charge to ensure there was no down time for the lads, primed and ready we strutted on up, ripping it Gizz, on ya! Hotel High Rolling 5 star style at the St Moritz hotel was the cherry to our whipped cream, and the perfect welcome with arms wide open when we cruised in just before midnight.
The common misconception with Heli Boarding is you need to be semi pro to charge it. This delusion couldn't be further from the truth as the amount of terrain on offer dishes up your ultimate delight for all levels. With over 5000 sq kilometres of epic terrain there are endless untracked runs for each level, a blank canvas at your disposal with a masterpiece creation awaiting your very own personal signature!
Twas the moment, a look out the lake front window flaunted a bluebird day as our Kick Ass comrade for every carve along the way! Without a single sparrow fart in sight or smell, yet again we're gonna score another fragment of filth! To cement our morning glory Emily rings up from base confirming pickup is on its way. Once loaded up, Ray the race car driver sonic booms off the first curb and hangs the back out wherever possible up the Crown Range, RADical to see the crew at SLH as fully amped as we are!
Yeah granted, it hadn't snowed for three weeks but our upcoming destination of North Harris & Branches Station (out the back of Treble Cone) still had Boot deep pureness asking for solid spankage. Accompanied by Julian & other Mega GC's of Southern Lakes Heliski we were in for one gnarly tasty treat. A thorough transceiver rundown, superlative snowpack stability check and all systems are go gO GO! In the expanded group we had 6 cherry's awaiting to be popped, their first time in the chopper and their styling spirit further soared ours!
Each and every chopper drop, in the embrace of excellence sees an opulence wealth of supremacy silver served up for our each and every run. Suppressed only by a lack of your own imagination, exclusive and almighty tracks are in abundance with wide open expanses, shoots, drops, lips & hits available on each decent. The quads quiver, ya glutes grunt and hamstrings hum as each run opens up over 2 kilometres of your personalised & sculptured seventh heaven.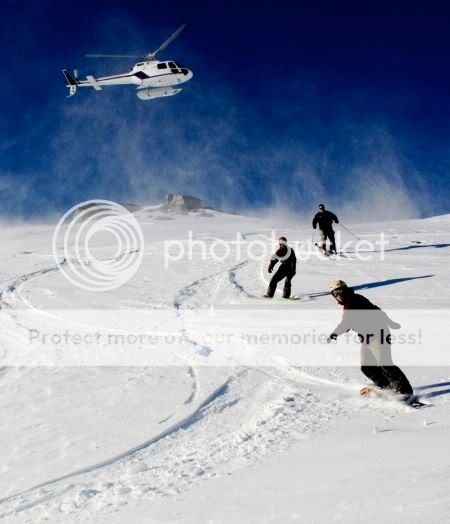 With a huge portion of the season left and big dumps only a few days away lock it in winter off in style. There's an abundant array of precision pockets with your peeps names sprayed all over it, your dreamy day at Disneyland is one simple call away. Southern Lakes Heliski is your alpine aphrodisiac & now clearly my new nemesis! To score boot deep pristine POW without a single snowfall in three weeks freakishly accentuates your one stop Heliski option!
AJ Hackett, The Canyon Swing, Shotover Jet and The Remarkables also showed up for our scintillating shindig, ensuring we went home with memories lodged firmly and never forgotten. These are the killer quadrant to lap up; ensuring your euphoric Amp up whilst away in Queenstown always exists.
I live my life my own way, releasing every thought or care & take control, as life is a dare. The beauty now as cruise control cranks in for our return roadie, we'll laugh our ass off for the next 6 hours, looking back on yet another chapter for the rocking chair chronicles & begin planning another!

Chair Bro!
Southern Lakes Heliski
Sony
Sitka (Clothing)
AJ Hackett
Canyon Swing
The Shotover Jet
The Remarkables
I am Giant – Itunes