Double Oscar winner Denzel Washington is drugs baron Frank Lucas in Ridley Scott's American Gangster.
Based on a true story, Washington stars opposite Russell Crowe who plays the detective who brings him to justice. Washington and Crowe first worked together 12 years ago in the futuristic thriller Virtuosity.
Washington, 53, is one of the most gifted actors of his generation. He was born in Mount Vernon, New York, and originally planned a career in journalism that he studied at Fordham University. But whilst at college he appeared in several stage productions and caught the acting bug, later enrolling at the American Conservatory Theatre in San Francisco.
He appeared in the hit medical drama St Elsewhere for six years before concentrating on film. In 1989 he won the Oscar for Best Supporting Actor for his role in the American Civil War drama Glory.
His impressive CV includes The Pelican Brief, Philadelphia, Malcolm X, Crimson Tide, Devil In A Blue Dress, The Manchurian Candidate and Inside Man. In 2002 he won the Oscar for Best Actor for his role in Training Day.
Q: What's your view of DVD? Do you see it as a format that gives filmmakers a chance to revisit their films?
A: Yes especially from the actor's side it's good to see. I've just directed a film called The Great Debaters, which is inspired by a true story about a young college debating team in the thirties and two of those people are still alive and we put them on tape on the film and I'm sure that will be added to the DVD, and to get the opportunity to do that is very cool
Q: Did Ridley give you any idea that he might do something like that with this?
A: We didn't talk about it. I would imagine they obviously interviewed the real guys. But I don't know if that will be included or not.
Q: How hard was it for you to relate to this character?
A: Well, it's fascinating. I think we are all intrigued by these figures. You just have to look at the box office that the movie got this weekend. I've had more people come up to me before this film came out than ever before saying, "I can't wait to see this." I think we're fascinated by gangsters and that whole lifestyle and crossing the line. We get sort of stuck in our normal lives, if you will, and you want to be bigger than life and I think people somehow live through these sorts of characters.
Q: You worked with Russell twelve years ago on Virtuosity?
A: Yes, I was seven years old (laughter).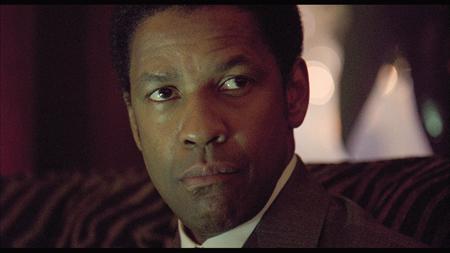 Q: What was it like working together again after that period of time?
A: It was great. He's been through a lot and had a lot of success. No one knew who he was when I worked with him 12 years ago. He's just come off a great film in Australia- Romper Stomper - and so it was good to see him again. Obviously, I'd seen him since.
Q: You've worked with some of the very best filmmakers. How does Ridley Scott compare?
A: And he's one of them. I didn't realise that he has never won an Academy Award. In fact, someone was telling me that Gladiator was the one film where he didn't take a producer's credit. And it won. But this guy changed the industry twice; with Aliens which was a whole new way of looking at things and Blade Runner that was also a whole new way of looking at things.
Q: Is there something that marks him out and makes him different from the other guys you've worked with?
A: Well, you know, I'm older and wiser. Well, older anyway (Laughter). So and now having segued into filmmaking I'm looking at him and what he does in an entirely different way and I have respect for what he does and how he composes shots. So that was what was completely fascinating.
Q: And, of course, you have directed yourself. Has this experience changed your approach?
A: It's definitely made me not want to do it anymore. The only reason I'm acting in films I direct is to get the money to make them, quite frankly, it's not what I'm interested in doing. And we'll see when I go back to work next year. After directing the first film it feels kind of tricky being back to being in front of the camera, because I've always got one eye over there, kind of thinking of what they are doing, and how the shot is being composed. I think it takes a couple of films to just get back to just being an actor. As it is next year I'll be working with Ridley's brother, Tony, again, someone who needless to say we've had a great amount of success together. I trust him – so I won't have to think about it or I'll try not to