I fear many men will stop reading and start running when I mention sex toys. What if I told you that sex toys are not your replacement, but rather an enhancement?
Don't be scared by these (often vibrating) friends. Embrace their existence in the bedroom, as they are now designed for your pleasure too! Let me navigate this weird and wonderful new space for you…….
We-Vibe 4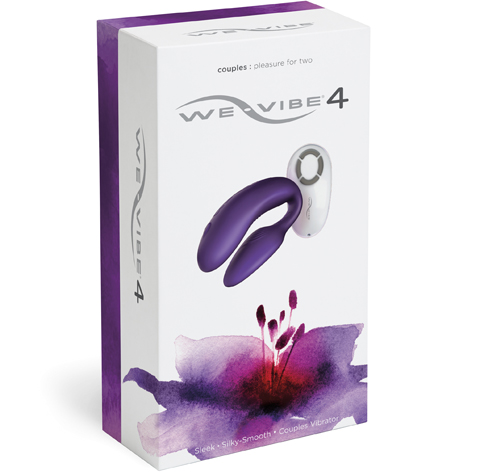 We-Vibe 4 is a couples' toy that can be used during sex. She wears it for extra stimulation to her clitoris and G-spot, and you fit in underneath. Approximately 80% of women achieve orgasm through clitoral stimulation rather than penetration, so it's not always easy to get her over the edge with intercourse alone. This does not mean you have failed in any way; you likely just need a bit more stimulation to the areas that We-Vibe 4 targets.
We-Vibe 4 is perfect for enhancing pleasure for both partners during sex. Some men feel left out by the presence of a vibrator in the bedroom, so the great thing about this product is that you use it together and he is still involved in providing pleasure.
Tenga Cups
These cups are a great way to jazz up some solo time, or can be used as a creative compromise when she's just not in the mood. These cups are not like 'traditional' sex toys. You can play with different sensations, including the rolling head cup, deep throat cup, double hole cup and air cushion cup. All your fantasies can come alive with a fancy piece of plastic.
IPO Finger Vibe by Pico Bong
If your partner enjoys clitoral stimulation but you find it a little tricky to reach the spot, try the finger vibe. It's small and subtle, and slides onto your finger to turn the palm of your hand into a vibrating pleasure tool. Size doesn't matter if you have the perfect touch! But the size of this product means she'll only feel its benefit and not detect its presence.
Massage Oil
Two of the best tools you have for sexual pleasure are your very own hands. Men can often overlook touch as a very sensual and simple tool. If your partner has trouble relaxing and getting into the mood, why not try a relaxing massage? Incorporate fun and stimulating flavours like lemon grass, coconut, orange, vanilla, caramel and of course, chocolate mint. The aim here is to help her relax, and escape from every day stresses and responsibilities.
50 Shades of Grey 'Submit to Me' Beginners' Bondage Kit
Most women who read the book still have the fantasy. You don't need to turn into Christian Grey to make this fantasy come alive (although if you can, it might help). Try a ready-made kit like this one: it contains a blindfold, silk hand restraints and spanking paddle. Three simple products will transform your bedroom into the red room.
Written by Sexologist and We-Vibe ambassador Nikki Goldstein.
Nikki has bravely taken on the subject of sex toys in relationships, talking men through how to juggle his lady and a vibrating friend!
We-Vibe® designs and manufactures world-leading couples and solo vibrators. World-class engineers and industrial designers work closely with sexual wellness experts, doctors and consumers to design and develop intimate products that work in sync with the human body.
For more information visit www.we-vibe.com or www.facebook.com/WeVibeAust