The official 2015 Guinness World Records book – this is a special edition of the world's biggest selling copyrighted book, marking an important milestone in our history as it celebrates the 60th anniversary of our first edition in 1955.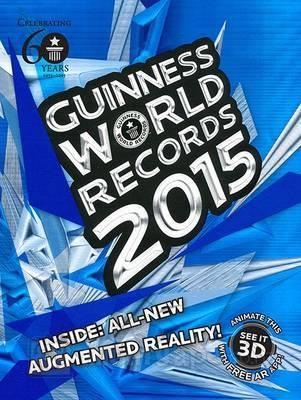 It's also amazing to discover what has stayed the same – the tallest man, Robert Wadlow, has never been exceeded and the fastest chicken plucker has remained unbeaten (4.4 seconds!). The design has also been given a refresh, inspired by the clean lines and easy-to-read typography of digital tablet devices. This not only results in an all-new look, but it resonates soundly with the other ways in which our fans consume words and information.
What's new in 2015? Crowd sourcing: the movies, video games and gadgets that have emerged from social media sites and the power of group action 3D printing: the manufacturing process that looks set to revolutionise how products are made and sold Alien hunting: the Search for Extra-Terrestrial Intelligence Fakes & frauds: record-breaking art theft, forgeries, crimes and fakery eBooks: how the digital revolution is affecting publishing Urban transport: monorails, ski lifts, driverless cars and funiculars – the more unusual side to public transportation Castles: inspired by Game of Thrones, our architecture consultant explores castles, fortresses and strongholds Robots & AI: artificial intelligence and the rise of the robot.
There are thousands of new and updated records – every major new achievement listed, Hundreds of amazing new photographs, many never seen before now, Highlights from our archive of classic records, Exciting new design to help reluctant readers, with a look and feel inspired by tablet technology, Dozens of new topics and spreads, plus details of how readers can become record-breakers themselves.
Plus a Free app: see it 3D – Available for free to every reader, the latest edition of our See It 3D Augmented Reality app brings the book to life with more exciting, interactive digital content. Designed to be used as a companion app, readers are encouraged to enjoy the reading experience of the book in conjunction with the app, unlocking interactive 3D elements and bonus material such as galleries and record-holder Q&As.
GetFrank is pleased to offer our viewers a chance to win a copy of Guinness World Records 2015 $49.99. To enter simply comment below then head over to our Current Events & Sports Forum to make a decent contribution to finalize your entry. Make sure you check out next weeks Newsletter to see if you're one of our winners.
COMPETITION CLOSED
Winner(s): MonkeySay