Week Ending 4th May: Mini R/C helicopter.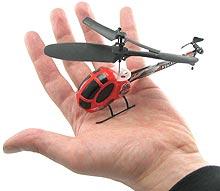 The coolest benefit of the low cost labour and economic rising of Asia: mad toys.
Constructed from polypropylene, weighing in at a mere 10g and measuring only six inches in length, this badboy staff strafer provides full control (up / down, left / right) with adjustable pitch for it's forward moving pace as you build up your abilities.
It can take off from your hand or desk straight out of the box to tour the office space. At 20 minutes to charge for 6-7 minutes airtime you've got days of procrastination lying right at your finger tips.
RRP: $USD 29.99 - $39.99, or check out www.zillion.co.nz
10/10