Summer = sun, beer, music, parties, chilling, the boys, bikinis, and as little time indoors as possible. But what do we do with all this time outdoors? The below instalments will showcase the 10 'must do' outdoor activities for Summer. Although Summer is all about going with the flow, a little bit of forethought is a great way to ensure you make the most out of your precious time off.

10) Paintball
Shooting people is bad right? Wrong! Its ridiculously fun, especially when they are your mate who last night got a pub pash at Coroglen Tavern with the girl you were with last summer, S.O.B. Paintball is fantastic for unearthing any suppressed primal instincts you may have and for just a few minutes pretend that you are an ex Vietnam vet who was rejected by society and has built up rage and confusion which must be vented. And it's a great way to enjoy being macho with your mates in a competitive environment in which the more pain you inflict the better you are. Plus you get to come back to the bach and show the girls all your wounds and get sympathy - especially from the ones on your ass. Luckily there is a post game medicinal drink called 'beer' in which the more you have, the less it hurts. But don't have too many or you may find yourself saying "bro shoot me in the balls"...

www.paintball.co.nz
www.actionspaintball.co.nz
www.topgunpaintball.co.nz
9) Sky Dive

DO IT! If you are thinking of going bungee jumping, don't bother. Sky diving is an absolutely incredible experience that eclipses all other free-fall activities. Unlike bungee-jumping, sky diving offers an acute contrast of emotions by starting with a de-wrinkling plummet to get those juices flowing, and finishes with a serene float back towards the earth and reality.On a beautiful Summer's day the views extend for miles from coast to coast, and for a few minutes you can gauge your own perspective on the scale of influence and significance we have on our environment. If you are either scared of heights or love a good buzz then this is the activity for you. Break the boundaries: DO IT!

www.freefall.net.nz
www.nzone.biz
8) Build something

That's right, build something. Whether it be a deck, some steps, a shed or a boat, just grab a hammer, some nails, zinc, and a few Amstels and get building. There are few things more gratifying than sipping back a cold one in the sun whilst basking in the satisfaction of attaining your project wearing only your favourite pair of stubbies because you got blood on your singlet.

www.mitre10.co.nz
7) Extreme sea biscuiting

Due to modern developments of marine engineering and the increasing popularity of wakeboarding, sea biscuiting is on its way to becoming a lost art. Now I am not talking about towing young Cathy and the weird kid from the bach next door around the bay at 17kmh while eating a Sesameal; no sir! Extreme biscuiting is a much more serious business. The words: white knuckles, barrel roll, air time, bails, wake-to-wakes, 70kmh, dislocations, twin bickies, loosing togs and "Yaaahoooo" all spring to mind when I ponder this exhilarating outdoor water activity. The greatest thing is that you can pick one up from Trademe for well, $100, and after a few bikinis fly off consider it paid for.

www.wakepro.co.nz
www.trademe.co.nz

This week's instalment will carry on with the next three outdoor must do's for this Summer. Just to recap, our last article explored Paintball, Skydiving, Building something, and Sea Biscuiting. Our next crop of must do's definitely has more of an adventurous edge, so if you are willing to get out of your comfort zone and go Xtreme(!) then I suggest you take heed of the following advice:
6. Hunting and Gathering
Since the dawn of man it has been our duty, in some way shape or form, to provide those we care about with the finer luxuries our land has to offer. This Summer I suggest you dust off the wetsuit and camo gear and do it the old fashioned way. In most of my articles I tend to harp on about how blessed we are to have a narrow country which happens to have very plentiful coastlines supporting a wide variety of edible flora and fauna. Summer is the perfect time to make the most of this as we have the means to collect an assortment of fresh home-grown delicacies from our doorstep. Personally I enjoy collecting the food much more than eating it, but it is the social enrichment occurring when friends and family are gathered around the table eating crayfish in buttered bread with $5 chips that reminds me of what Summer is all about. Plus any girl will melt when you pull out a platter of sea food which has been personally hunted and gathered for their consumption - just load them up on oysters boys!

www.huntingandfishing.co.nz
www.divehq.co.nz
Awesome recipes to impress:
http://www.pacificcatch.co.nz/recipes.html
5. Exploring
I am sure all of you can recall numerous adolescent memories which have been instigated by the thought 'I wonder what's up there?' or 'where does this lead to?' well I think it's about bloody time you let testosterone start calculating your reason. As adolescents we are blessed with a clear naivety of consequence, which in turn transforms idealistic thoughts into reality. I know that everyone has a place that the above questions relate to, you may have driven past it for years or heard about it on TV or through a story, so whatever the case may be stop letting excuses stop you from living a dream.

www.wildernessmag.com
4. Sea kayaking mission
This is a very simple formula to follow:
A) Grab some maps
B) Pick some places you wish to mission to and explore
C) Research the practicality of the expedition (camping, distance, time, etc)
D) Organise gear (a sea worthy kayak with sealable storage units, wet weather clothing, food & water, communications device)
E) Check the weather carefully, do not try and be a hero
F) Convince a Scandinavian backpacker to join you because you can only find a two seater kayak
G) Bring a bottle of wine and catch a fish on the way
H) Enjoy a whole night of drinking wine and eating fish

www.canoeandkayak.co.nz
www.wildernessmag.co.nz/features_kayaking.htm
and check out
www.backpackers.co.nz
This is it! The third and final installment in our 10 must-do outdoor activities this summer. Below we have the top 3 outdoor activities that should be the top priority to fill in those precious days off these holidays. These top 3 activities are all very accessible and friendly on the pocket, and they also play a vital part in the New Zealand males' Summer culture.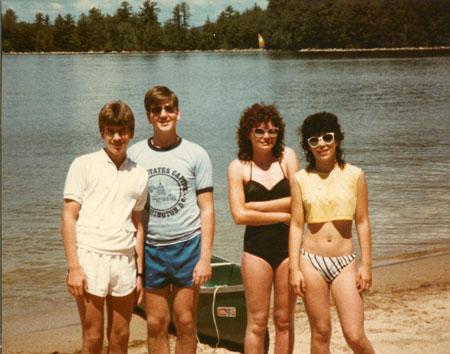 3) Stubbies with stubbies sports
Thats right! grab your favourite pair of tight ball length stubbies, some zink, jandals, cheerleaders and a cold box of stubbies to put in the chilly bin. It doesn't matter if you are useless at sports and have the hand / eye coordination of a dwarf, this outdoor activity is all about actively participating in the festivities whilst wearing short shorts and drinking beer. The traditional games include the ever popular beach cricket, where you constantly slag off your own team mates and 'your mama' jokes never get old. It is important that you hold onto the bat when going for a cover drive, or you may end up smashing the windscreen of your mates VR Holden. Other popular games include touch, frisby, hacky sack, slip & slide, (technically not a sanctioned sport but who really cares! I reccommend the crocodile mile) and one for the ladies - bat down. All sports have a set rule system which is outlined below:

A) If you stuff up you drink B) If you do good you drink C) if you lose an argument you scull D) If you win an argument you scull E) If you get out you funnel F) If you are parched you drink G) Pee by taking a knee H) All aditional rules are constructed by participants.
2) Surfing
It doesent matter if you suck or you rip, you will enjoy the sport just the same. It is safe to say that surfing really is the ultimate summer pastime. Surfing has evolved from not just being an outdoor activity but a culture and lifestyle for thousands of New Zealanders. This outdoor activity affects the way we look, where we holiday and for many, how we spend the daylight hours of our summer. The great thing about New Zealand is that there is usually a selection of different surf beaches within a small radius which bodes well for spreading out crowds. In Summer surfers tend to gravitate to the known local breaks so I highly recommend going for a wander, even if it means surfing a slightly less consistent wave - the chances are your total on-wave time or 'face time' will be much longer than that of the localised area. If you are a gumby and have the coordination of Helen Keller then I highly recommend getting some lessons. If you're hiring a board it is more than likely the shop can assist you in this process. Lessons will provide a more possitive learning experience, preventing plateau and bad techniques. It is the concept of surfing that attracts me; basically you are riding moving energy of varying intensity on a man made stick of foam.
www.newzealandsurftours.co.nz / 0800 SURFTOURS

Here we go team!! the number one outdoor activity to do this summer is......
1) Summer gigs
We are blessed with the best music in the world and it is Summer time where this is showcased through hundreds of outdoor music gigs in obscure areas all around the country. Small rural towns like Mangawai, Waihi, Hawera and Coroglen spring to life to provide New Zealanders with the cream of musical talent in a wide variety of original and culturally unique styles. Music is our identity, it feeds our souls, controls our emotions and defines our character.

If you see me at a gig come say gidday and we'll have a beer.
www.eventfinder.co.nz

That concludes the 10 must-do's for this Summer. You must do at least 4! No excuses!

Dont just hit it, bust it big!
Get amongst it!
Dave