By Karl Johaentges and Jackie Blackwood.
www.CraigPotton.co.nz $59.99
Fred Dagg had a hit song a we while ago now reminding New Zealanders that We don't know how lucky we are. In New Zealand. An Island Journey German born Photographer Karl Johaentges and Scottish-born Australian writer Jackie Blackwood have provided us a 320x250mm bold hard cover book with spectacular photographs that showcase the undisputable fact that we live in a slice of paradise.
Photographs such as the night sky scape revealing the Milky Way will remind many readers that it is time to get out of the city and head for summer of camping to enjoy our night skies in full luminosity.
As well as photographing Aotearoa's landscapes Karl also turns his lens towards some of our lads. A Hangi is always a community event and this photograph of men from the East Cape captures the heat of the moment perfectly.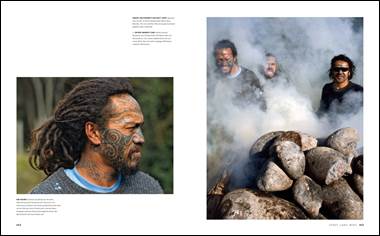 Making the road trip to Puponga and Farewell Spit at the Top of the South Island has its rewards for those seeking to get back to nature as Jackie explains…
"Farewell Spit owes its bizarre shape to the ocean currents in the Tasman Sea that sweep around this corner of the South Island. Much of the 32-kilometre long sandspit is a nature reserve for birds."
The book also has plenty of stories about men who work the land and help our community enjoy it. Mark Bournevile surf lifesaving voluntary duties at Piha Surf lifesaving club are celebrated. Mark is also known as Horse by the Rugby League fraternity and his life and grin are indicative of the charisma of the characters in this magnificent book.